If you've ever been to China, you might have seen some of their interesting dog breeds.
China is home to a wide range of breeds that are specific to the country, many of which are becoming increasingly popular around the world.
Here is a list of some of the most popular Chinese dog breeds, including brief histories and facts.
1. Bone-Mouth
The bone-mouth is actually the "original" or the Traditional type of Shar-Pei but is probably less recognizable to many reading this list.
It has fewer wrinkles, shorter fur, and a more pointed tail, all of which set it apart from its better-known cousin.
Check This Out: 👇
Bone-Mouth Video

Now, you can compare it to the other Shar Pei.
However, the bone-mouth is still a beautiful dog, and in fact, looks very proud.
The bone-mouth is a  large Chinese dog breed that was originally bred for hunting and as a guard dog.
Because of these uses, the breed has developed a loyal and independent temperament but can be very calm and affectionate around its owners.
The bone-mouth is a very active breed and does still have an innate need to hunt and guard. However, this shouldn't put you off, considering it as a good family dog.
Providing you can give it enough exercise, there shouldn't be many problems.
The breed has quite a distinctive look and has several unique features.
The most obvious are skin wrinkles, and while they're not as pronounced as the Shar-Pei, they're still pretty visible.
Kennel standards advise that the dogs should have blue-black tongues and mouths, which is another interesting feature and isn't seen on many dog breeds.
However, lighter colored bone-mouths do have pink tongues.
Bone-mouths typically stand between 19 and 23" high, which makes it one of the larger Chinese dog breeds, and they usually weigh 40-65lbs.
There is a slight difference in weight between males and females, and they're usually heavier than the more recognizable Shar Pei.
While these might be considered a larger breed, they're still a good size for a family dog, and won't take up too much room around the house.
Typically, this large Chinese dog breed is favored in darker colors, and will usually be found in black, blue-black, and black with rust.
However, lighter colors, such as fawn and cream, are found, but these are considered less desirable by breeders.
2. Chinese Chongqing Dog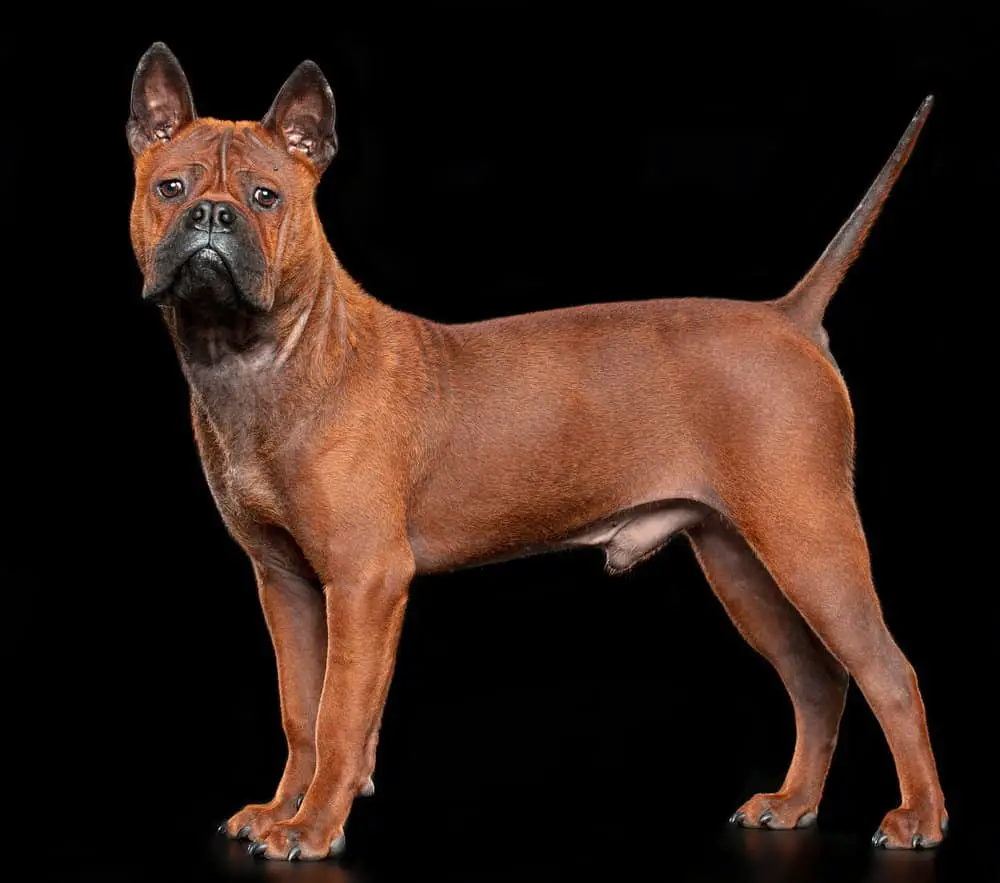 This breed is also known as the East Sichuan Hound and originates from the regions of Sichuan and Chongqing in southwest China.
They have a very similar face to breeds such as bulldogs and pugs and have an incredibly good sense of smell.
This is related to their original purpose as a hunting dog, as they have to be good at sniffing out prey.
The Chongqing Dog is one of the oldest on this Chinese dog breeds list and can be traced back to the third century.
Chinese Chongqing Dog Video

An archeological dig found statues resembling the breed in a graveyard from the Han Dynasty, proving that it's clearly been around for some time.
Back then, the statues were used to accompany the family into the afterlife, which proves that they were seen as a very protective breed.
In the past, the breed was also used as a hunting dog, which has resulted in it being a very intelligent and loyal breed.
As with any other ex-hunting breed, they do require plenty of exercises and mental stimulation.
The breed is very intelligent, and so can become bored quickly if they're not kept entertained.
However, this is easily overcome if you're willing to put in the effort of playing with the dog every day (which isn't even that much effort after all).
The breed has a very relaxed temperament, but can be very protective of its owners and wary around strangers.
However, if the owner is present, they'll quickly warm up to anyone.
Chongqing Dogs have short, bristly fur, a squished face, and pointy ears.
They're a medium sized dog and do make a great family pet, but will require plenty of training to overcome their protective instincts.
They can be good around children but again will need to be eased into the situation.
3. Chinese Crested Dog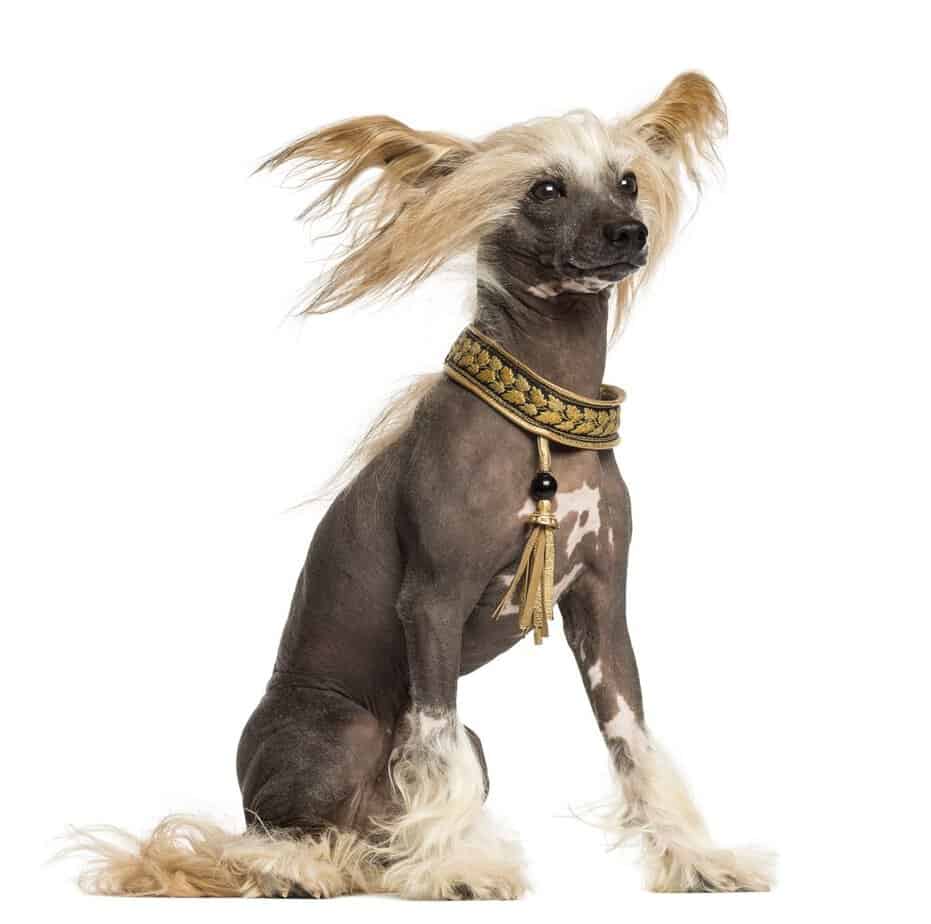 The Chinese Crested Dog is considered to be a small Chinese dog, and they do make excellent lap dogs.
They were originally bred to be a companion for the disabled and elderly, and so they have all of the desired characteristics of a companion pet.
They're faithful, calm, and very friendly, and make great family pets.
Chinese Crested Dog Video

Because they were specifically bred as companion pets, they don't have the same desire for exercise as standard breeds, which is very helpful for some people.
They could be considered lazy, as their favorite hobby is to sleep, but they're still athletic enough to have a good run around when they want one.
Their agility is a notable trait, and they often do very well in competitions.
Chinese Crested Dogs are probably one of the most recognizable breeds on this Chinese dog breeds list and are known worldwide for their unusual lack of fur.
They still have fur on their head, feet, and tail, hence the "crested" part of their name.
The rest of their body, however, is completely bald and is often characterized by spots on the skin.
WORTH A LOOK:  "American Hairless Terrier" 👈
The dogs' temperament is usually very friendly, and they often get on well with other dogs.
Chinese Crested Dog Infographic

However, they don't take too well to strangers, and so you should be careful about introducing them to other people, and this situation should be managed closely.
Once they do warm up to someone, though, their affectionate nature really shines through.
One of the best features of this breed is its intelligence.
They're very easy to train, which is another reason they do well in competitions.
Owners often praise the breed for its easygoing nature, and although they might not be the cutest in appearance, they certainly make excellent companion dogs.
4. Chinese Imperial Dog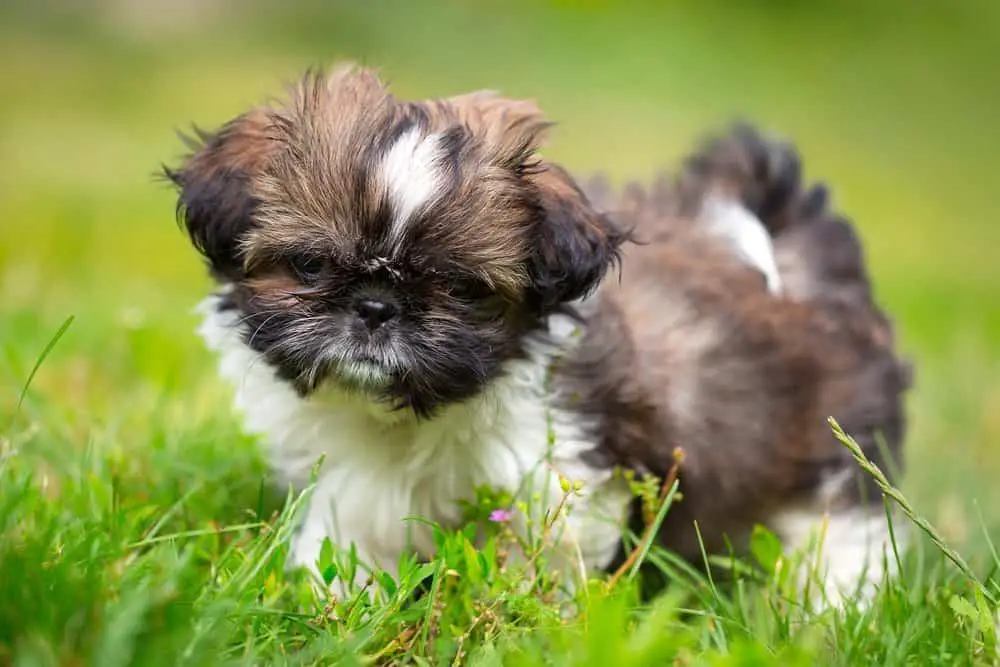 The Chinese Imperial Dog is another small Chinese dog breed and is considered a toy dog.
They're also known as the "Imperial Shih Tzu," although the two breeds aren't closely related.
It's a translation of "lion dog," as they're another breed that's thought to look like the lion guardians from ancient Chinese culture.
Chinese Imperial Dog Video

They were first bred in China by the royal family as companion dogs, and some of the smaller ones were actually carried in sleeves!
The breed is a very old one and is believed to have been around for over 2,000 years, although the American Kennel Club has only recognized them since the 1960s.
The main reason why there's debate over the origin of the breed is that although they're not related, the breed is almost identical to the standard Shih Tzu, but is just much smaller.
However, they've always been recognized as separate breeds in China.
Its long and wavy coat knows the breed that's also very dense.
The coat can either be kept long or trimmed, but the trimmed version is more common for owners because it's much easier to manage.
That said, they still need regular grooming because the coat can become very matted otherwise.
Chinese Imperial Dogs come in a wide range of colors, but the most common are a black and white mix.
The breed is known for their calm and friendly temperament, which is a result of them being bred as companion dogs.
They can be very energetic and require more exercise than you'd expect for a small dog.
However, as they're small dogs, simply playing with them in the house will often be enough.
The breed makes an excellent companion pet and does socialize well with other dogs, but be careful with them around children.
Like other small dogs, they're much more susceptible to unintended injury.
5. Chow Chow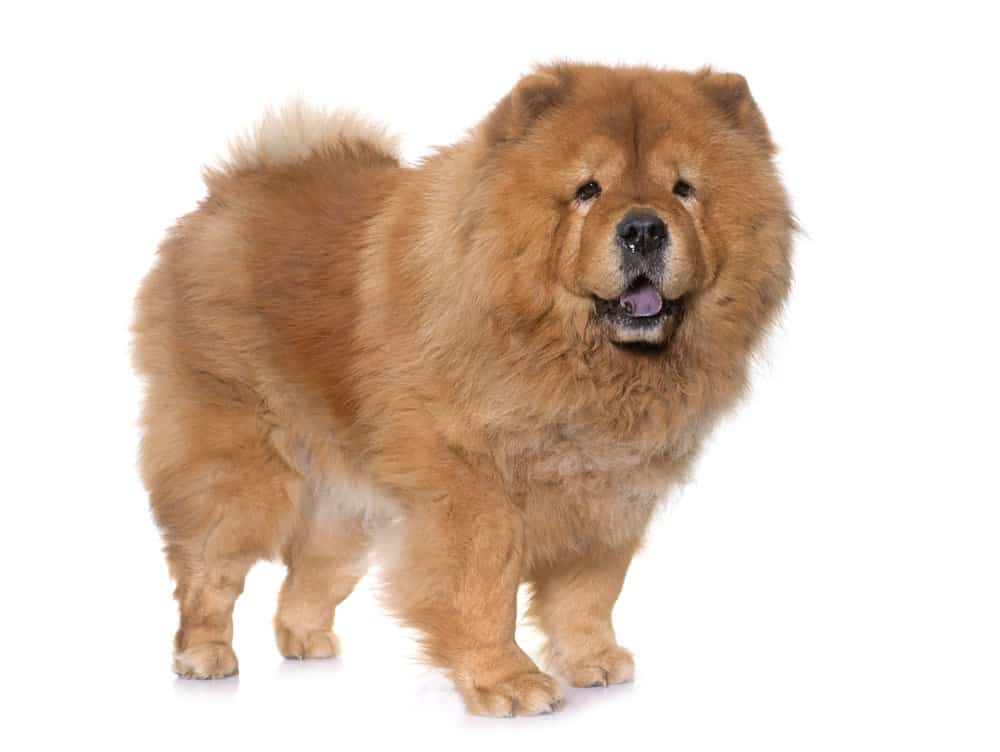 The Chow Chow originates from northern China, and some historians believe it can trace its history back over 2,000 years!
They were originally bred as a hunting and fighting dogs, but were also used to pull sleds, and are well adapted to the colder climates of northern China.
Chows are a large Chinese dog breed and are best known for looking like giant teddy bears.
The breed is a recognizable one, but they're not particularly popular, for several reasons.
Chow Chow Video

They don't do well in hot climates, which rules them out to a large number of potential owners, and they can be challenging to manage.
Also, they're not the friendliest dogs and are often described as aloof by owners and breeders. However, if you take the time to look after a Chow properly, they can become a loyal companion.
Chows are known for their stocky appearance and have a square head and large body.
Their fur is very thick and fluffy and can be either soft or rough.
They're best known for their blue mouths, which is a unique feature not seen on many other dog breeds.
Chows also have a curly tail that sits across its back. The standard color for the breed is cream or fawn, but they are also seen in black and red.
There are particular rules around the acceptable color for dog shows, with fawn being the most popular in competitions.
When it comes to temperament, Chows can be very wary of strangers, and owners should take care when walking them in public spaces.
While the breed isn't known to attack strangers, they can get very protective if they believe their owner is under threat.
They're not very active dogs, but do still need daily exercise, mainly to prevent boredom and weight gain.
To prevent any aggressive tendencies developing, owners are recommended to socialize them from a very early age.
Chow Chow Dog breed Infographic

Are Chow Chow Chinese dogs good for first-time dog owners?
The short answer to this question is no, not really.
Although the breed might have a very desirable appearance, they require a lot of work to keep them looking good.
This requires time and money on the part of the owner, and if you've never owned a dog before then, you might not be fully aware of the commitment needed.
Along with the constant grooming is the issue of training. Chow Chows are very stubborn dogs, and they can be very difficult to train.
This isn't a big problem for an experienced dog owner but might cause an issue for a first-time owner.
First-time dog owners should always consider breeds that are easy to train and care for, as this will make the learning experience much easier.
Many experienced dog owners would void Chow Chows for these very reasons.
The other big issue is their temperament around strangers and other dogs.
For an experienced owner, this won't be as much of an issue, but if a first-time owner has no knowledge of socializing dogs, or what's considered "bad" behavior, then it can become tough to manage.
Chows are independent and intelligent dogs, and they will inevitably take advantage of their owner's inexperience if given a chance.
Finally, there's the issue of health problems. Granted, any breed can have health issues, but it's best to avoid a breed known to have the hereditary issues if you're a first time owner.
Health issues mean trips to the vet, which require time and money, and if you've never owned a dog before then, you might not know what to look out for.
Although Chow Chows are amazing dogs with great personalities, they don't make a good choice for first-time dog owners.
What health issues do Chow Chows have?
As mentioned earlier, many breeds have hereditary health issues; these are an unfortunate consequence of selective breeding over the years.
While this doesn't bother some owners, it's worth having information about any potential problems before you commit to buying a particular breed. The most common health issues seen in the breed are:
Hip and elbow dysplasia
Eye problems (cataracts, glaucoma)
Diabetes
Stomach cancer and gastric torsion
One of the easiest ways to avoid buying a dog with these problems is to find yourself a good breeder.
Obviously, Chow Chow breeders aren't massively common, but it's worth searching around before committing yourself to a particular breeder.
Any breeder who takes their role seriously will provide you with all relevant information on health checks that have been carried out.
This is particularly important if the dog is a pedigree, as these cost a lot more money.
Also, take your new dog to the vet as soon as you can.
Your vet will be able to tell you about any issues that might develop and will advise on treatment. This is important even if the breeder has given you health certificates because it's always useful to gather your own information.
One way to get around this issue is to get a rescue dog.
Seeing as many of these problems don't become apparent until the dog is an adult, adopting a fully-grown Chow will help you to rule out the possibility of health conditions.
Whatever you do, don't buy a Chow from a pet store.
You have no way of tracing back to the breeder, and they could be selling you any old dog.
How much does a Chow Chow dog cost?
This will vary massively by the breeder, country, and region, but in the USA you can expect to pay a minimum of $900 for a Chow puppy, with the potential of a much higher cost if you're looking at a pedigree dog.
When you factor in grooming and healthcare costs, which can run into the tens of thousands over the dog's lifetime, you're definitely looking at an expensive breed.
This is another reason why they're not a great choice for first-time owners, and should only be a commitment for those that can afford them.
6. Japanese Chin
Granted, as the name indicates, "Japanese Chin", this breed isn't considered a popular Chinese dog breed, but the origin of the breed is actually a hotly debated issue.
Many believe it arrived in Japan through the Chinese or Koreans, which is why it's ended up on this Chinese dog breeds list.
Owing to this debate, no one is completely sure when the breed arrived in Japan, but the general consensus is between the 8th and 11th centuries.
Breed Overview:
Unlike almost every other breed in Japan, Chins were bred as companion animals.
It's part of Japanese culture to view dogs as working animals, and for this reason, the Chin is unique in that its sole purpose was for companionship.
In the past, they were only owned by nobility and royalty, and each house bred the dog to their standards.
This has resulted in a large variation between dogs, although they're all considered part of the same breed.
Japanese Chin Video

A standard Japanese Chin breed is between 8 and 11" tall, although this can vary massively.
Similarly, they can weigh as little as 3lbs, and as much as 15lbs, but the most common weight is around 9lbs.
They typically have a large, round head with fluffy ears and a short muzzle.
These are typical characteristics bred into all variations of the Chin.
Japanese Chin's Coat:
Japanese Chin dogs only have a top coat, unlike other breeds that have both a top and an undercoat.
Their fur is long and can take up to 2 years to grow in properly.
They are usually black and white, or red and white, although it's also common to have dogs with all three colors present in their coats.
Temperament:
The breed is considered more like a cat in temperament than a dog.
They're independent, talented, and even wash their face with their paws. They're very friendly dogs and have built a reputation as therapy animals.
They can be trained very easily, and respond well to learning new tricks.
Like other lap dogs, they don't require much exercise but should be taken out to relieve boredom if nothing else.
What Are The Pros And Cons To Japanese Chin Dogs?
The main pros for the breed are their temperament and bold character.
They're known to be friendly and affectionate with their owners and are surprisingly adaptable to changing situations.
Unlike some other dogs, they're not too wary around strangers, particularly in the presence of their owner.
All of this is what makes them ideal therapy dogs.
They're very receptive to human emotion, and due to their adaptability, are suitable for taking on trips or out in their owner's daily life.
They learn tricks very easily, and so make excellent competition dogs, although there are strict entry requirements due to the variations in the breed.
The main con relating to the Japanese Chin is its health.
They are prone to breathing issues due to the shape of their face, and these only get worse with age.
They're also prone to joint issues, particularly in their knees, and these can develop at any age.
They also have problems with cataracts, again relating to the shape of their face, and these can be triggered at any age.
The other big con is the maintenance of their coat.
Like other longhaired breeds, they need at the very minimum daily brushing but should be taken to the groomers regularly.
While you can trim their coat short, this is best avoided in colder climates because the dogs lack the standard insulation that comes from double coats.
They also need to have their faces cleaned regularly because their skin folds can trap dirt and moisture, which can lead to skin problems and fungal infections.
The same is true for their ears, but all of this can be avoided with regular cleaning.
Japanese Chin's  Diet:
While it's not considered either a pro or a con, Japanese Chins need a carefully controlled diet.
This is because they're very susceptible to obesity, and need plenty of fiber in their diets.
The breed also has known food allergies, although this won't necessarily be present in every dog.
This will mean that a Japanese Chin needs to be fed a high-quality diet, and you should check in with a vet to make sure the food is appropriate.
Do Japanese Chins Shed?
Much like Lhasa Apsos, Japanese Chins do shed, but nowhere near as much as a dog with a double coat.
Also, because you'll be brushing them regularly, you'll pick up much of the loose hair before it ends up on the floor.
Shedding isn't a big problem in dogs with a single coat, but you can always expect some level of shedding.
Do Japanese Chin Dogs Make Good Family Pets?
Because they were bred as companion dogs, Chins are always eager to please their family members.
They're good for keeping in apartments because they require little exercise, and by their nature prefer houses to outside.
They are also good around other animals and will get on fine with cats due to their similar personalities.
However, do be wary about keeping Japanese Chins around small children and babies.
They are quite fragile dogs because they have quite a skinny frame under all that fur.
While they will get on with children, smaller children can tend to be rough with dogs, particularly if they haven't been taught how to behave around them.
That said, Japanese Chins are receptive to training and so can be taught how to interact with children.
Unfortunately, though, it's usually the children that are aggressive rather than the dog.
If you have older children that are aware of the small dog, then they will make excellent family pets.
How Much Do Japanese Chins Cost?
Japanese Chins aren't that popular outside of Japan, so one of the most significant issues will be finding a breeder.
Do your research though, and find all options before committing to a breeder.
Any reputable breeder will give you any information about the dogs that you want, including health certificates of the parents and puppies.
Due to their rarity in the West, you can expect to pay a decent bit of money for a Japanese Chin.
In the USA, you're probably looking between $1,500 and $2,500 for a purebred dog, although this will vary depending on the breeder and your location.
A cheaper option is to adopt, but you'll encounter the same issues of a rarity when it comes to looking in a shelter.
7. Kunming Wolfdog
The Kunming Wolfdog is named as such because it
originates from a domesticated dog breed being crossbred with a wolf
.
This gives the breed a wilder appearance and also affects temperament.
The Kunming Wolfdog is commonly used as a military support dog in China and has even been trained to detect mines.
However, they also make popular pets for many families.
Think of them as essentially the Chinese equivalent of a German Shepherd.
The breed is actually quite a recent one when compared to others on this Chinese dog breeds list.
They were created in the 1950s specifically for military assistance, and although there isn't an official breeding list, they can definitely count German Shepherds as their ancestors.
Other than that, there isn't much evidence regarding other breeds used to create the Kunming Wolfdog.
Typically, the Kunming Wolfdog is between 25 and 27" tall and weighs between 66 and 84lbs.
They have a double-layered coat that's similar in color to a German Shepherd, and they shed it twice a year with seasonal changes.
They have a long tail that is usually carried low but can lift up when excited.
Although their coats are usually black and brown, they have been known to cover a range of colors, including rust and straw.
The breed is very intelligent and can be trained quickly and easily.
This is why they're used as military dogs, but it also makes them great pets.
However, they do require plenty of exercises and mental stimulation, which unfortunately rules them out as assistance dogs.
That said, they still make excellent family pets and guard dogs, and will be very loyal to their family.
8. Miniature Shar Pei
As is probably obvious in the name, this breed is simply a smaller version of the Shar Pei breed.
This makes it a small Chinese dog breed and is typically only 17" tall at its biggest.
While this might not seem particularly small, it does make them better suited to certain households, and therefore, an excellent family dog.
The breed was created simply through selectively breeding small Shar Peis together, and so isn't counted as a separate breed.
Everything about the breed is identical to a normal Shar-Pei, except they're just smaller. They have the same build and face, and the characteristic facial wrinkles that identify the breed.
Miniature Shar Pei Video

Typically, the breed weighs between 25 and 40lbs and has a short coat.
The coat can be rough or smooth and is usually black, fawn, chocolate, or blue, although variations on these colors are also common.
The breed doesn't shed very much, and usually only does so twice a year, which is favorable for many dog owners that don't like constantly cleaning up dog hair.
Miniature Shar Peis are very friendly and loving, but they are also very independent.
They love to play, but also enjoy doing very little, which is part of what makes them such a good family dog.
They don't require loads of exercise, but should still be walked daily to avoid boredom and weight gain.
The breed doesn't have that many health issues, but any that are present will come from the parents, so always make sure you can get a family history if you're buying from a breeder.
Many people think that their wrinkles can cause health problems, although this is usually just a misconception.
A healthy dog won't have any problems with its wrinkles, although they should be cleaned occasionally just to be on the safe side.
9. Pekingese
Pekingese are also known as "Lion Dogs" because they look like the ancient Chinese lion statues commonly found in temples and palaces.
They're an ancient breed and are known as toy dogs.
This makes them count as a small Chinese dog breed, and are in fact one of the smallest on this list.
The breed was originally kept by Chinese royalty as a companion dog, and that's where its name comes from.
Pekingese Video

The Forbidden City, the seat of Chinese royalty, is located in Peking (now called Beijing).
However, the breed has soared in popularity around the world and is favored for its appearance and temperament.
The breed has hardly changed in the last 2,000 years and is known for its long and fluffy coat.
At their biggest, Pekingese dogs stand 9" tall and weigh between 7 and 14lbs.
They can come in a wide range of colors, including fawn, black, brown, and cream, and typically have a black face.
Pekingese Dog Infographic
Pekingese dogs are typically calm and quiet and don't require much exercise.
Because they were bred to be lap dogs, they're very content to simply sleep all day, but should be taken on walks to avoid weight gain.
One of the biggest commitments needed is constant care of the coat.
It requires daily brushing and should be groomed every other month.
The fur should be trimmed around the face to avoid things getting in the eyes.
The breed is unfortunately known for a range of health issues that include anything from overheating due to their long coats to breathing difficulties because of their short noses.
They can also develop eye problems, and their face creases can become inflamed if not cleaned properly.
However, much of these issues simply require care on the owner's part, and overall, Pekingese make great companion dogs.
10. Pug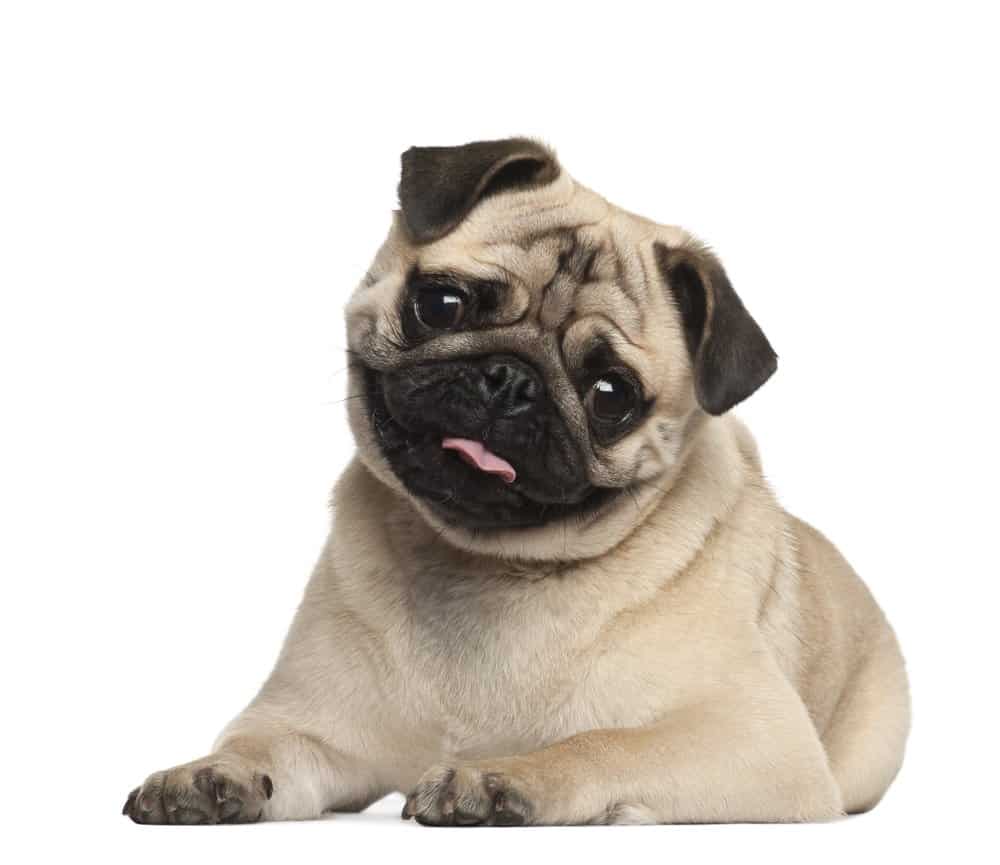 The pug is probably one of the most recognizable breeds in the world and has held a special place in popular culture for many years.
Characterized by its squished face, stocky body, and curly tail, pugs, have a long history in both the East and the West.
In fact, when they were first brought to Europe, they became a popular companion for royal families.
Pugs are definitely among the popular Chinese breeds and are known for their big personalities and friendly temperaments.
Pugs can be stubborn, but not in a bad way, and they are easy enough to train if you're committed.
They're rarely aggressive and will get on well with other pets, and children.
For this reason, they make great family dogs.
Just Another Cute Pug Video

Traditional pugs were much longer in the body than modern pugs, which are characterized by their short legs and stocky body.
They're surprisingly strong for their size and require more exercise than you might think for a small breed.
This is down to their high energy levels, and the breed's tendency for holding weight easily.
Due to their use as companion dogs, pugs appreciate the human interaction and are very aware of changes in their owner's mood.
They're eager to please and should be played with regularly.
While they do require plenty of exercises, pugs also appreciate sleeping for much of the day.
Why is a pug dog so expensive?
One of the biggest reasons pugs are so expensive is because of their popularity.
Like anything else that's popular, breeders can get away with charging more money simply because people are willing to pay.
While this might not seem massively fair, it's the price you pay for choosing a popular breed.
However, this issue can be overcome by choosing a rescue dog instead.
Many owners choose to get rid of pugs if health issues develop, which are quite common in the breed and providing you're willing to deal with these, it'll save you money on initial costs.
Also, part of the reason for high costs from breeders is to cover the potential costs associated with these health issues.
Many pugs are unfortunately born with health defects, and the breed tends to labor complications due to female pugs not being the best shape for carrying puppies.
This is one of the unfortunate side effects of selective breeding; so always make sure you do your homework before deciding on a breeder.
Do pugs have a lot of health problems?
The short answer is yes.
One of the most common issues associated with the breed is breathing problems.
Their squished nose might look cute, but it's had some serious impacts on the dog's health.
It's resulted in a smaller soft palate, which hardens over time, and might result in costly surgery to reduce or remove.
You can also have a pug's nostrils widened, but this is again very expensive.
They also have regular problems with their eyes, which is because of the shape of their face.
Their eyes bulge out, and unlike dogs with more "traditional" shaped faces, there's very little to prevent foreign matter from entering the eyes.
This can result in ulcers, cataracts, and eventual blindness if left untreated.
There are also common issues associated with toy dog breeds, such as dental problems and pressure on internal organs that result from selective breeding related to size.
However, these issues aren't as common, but will usually become present only in later life.
For this reason, you might be better off looking for a rescue dog if you have your heart set on a pug.
As with any other dog breed, these issues tend to be more common in purebred and pedigree dogs.
This is simply because any issues that relate to selective breeding are compounded due to the intensively selective nature some breeders use.
If you do want to buy a pug from a breeder, make sure you do plenty of research, and do everything possible to reach out to some of their previous clients to see how an older dog is doing.
You can do this without going through the breeder; it might just take a bit of homework.
Are pugs aggressive?
Pugs have an incredibly kind and sweet nature, but it's worth remembering that this is a generalization, and so every dog should be considered individually.
If they're not appropriately socialized from an early age, pugs can develop aggressive tendencies, such as barking or nipping.
Also, due to their nature as companion dogs, they can become very territorial of a space they consider their own.
This will likely only be a problem if you try to bring another dog into the house but is also an issue that can be easily corrected.
Pugs are very receptive to training, and because of their dependence on human contact, it won't take them long to realize you don't like their behavior.
Each dog will have triggers that cause them to display aggressive behavior.
As mentioned, much of this will probably relate to their territory, so it's worth working on this before it becomes a problem.
Pugs don't take long to develop bonds with other dogs, so bringing a friend's dog into your home is an easy way to combat dominant behaviors.
Are pugs a good family dog?
Pugs make excellent family dogs because of their innate friendly nature.
Although they can sometimes display aggression, this is easy to train out of them, and they are great around children.
Unlike some other small breeds, pugs aren't delicate, and so can withstand inquisitive children.
They're also great around other pets, not just dogs, although you might have to introduce them slowly to cats and other animals.
Once trained though, a pug will be friendly with all animals and is very calm, so it is perfect for having around the house with a large family.
11. Shar Pei

The Shar-Pei is easily one of the most recognizable on this Chinese dog breeds list and is known for its wrinkly face and curly tail.
Shar Pei's are known around the world but have never really taken off as a famous dog, although they have a special place among dedicated breeders and owners.
It's been recognized by the Guinness Book of World Records as one of the rarest breeds in the world.
Shar Pei's have small, triangular ears that sit on top of their head, and a tail that curls over their back.
Not only do they have a wrinkly face, but the wrinkles also cover the rest of its body.
Funny Shar Pei Video

The wrinkles on the face should be cleaned regularly to avoid health complications, including yeast infections.
They have short, rough coats, but can also have very smooth fur.
The standard color for a Shar Pei is fawn or cream, but kennel clubs recognize over 16 different colorations.
They have a blue-black mouth, which is only really also seen in the Chow Chow, which was one of the original species the Shar-Pei was bred from.
Shar Pei's were originally bred as guard dogs, so this has resulted in them being wary of strangers, and needing constant socialization from an early age.
If this is done correctly, however, they will develop into incredibly friendly and loving dogs.
They are very loyal to their owners and are receptive to strangers if their owners are present and handle the meeting properly.
The breed is quite energetic and very intelligent, and so requires plenty of exercises and mental stimulation.
If this isn't handled correctly, the dog will become bored, which results in either depression or destructive behavior.
However, if appropriately exercised, the breed will be absolutely fine when at home.
Shar Pei Dog Breed Infographic
Are Shar Pei dogs a suitable breed for a first-time dog owner?
Much like with Chow Chows, Shar Peis are not a suitable dog for first-time owners for many reasons.
These issues mainly stem from their temperament, their ability to train, and possible health issues.
However, if these are things you're willing to commit to, then nothing is stopping you from getting a Shar Pei (except maybe the price).
As a breed, they are very stubborn, and as they're a large Chinese dog breed, they can be difficult to handle if you don't know what you're doing.
However, if you have experience dealing with dogs, then these problems aren't as much of an issue.
Training a large and stubborn dog requires patience and commitment, and many first time owners aren't completely confident in treating a dog properly.
Another significant factor worth considering is the breed's associated health issues.
As has been mentioned in this article, all breeds will have health issues, but some are more prone than others.
Shar Pei's do suffer from a range of health conditions relating to their physical appearance, and while these are manageable, they do lead to high vets bills.
This is often something first-time owners don't consider, and then realize the mistake when they're paying thousands to treat a hereditary condition that would have become apparent with a bit of research.
The final thing to consider is that Shar Pei dogs are very intelligent, and are good at picking up on a person's mood.
Considering they have issues around people they don't know, there's every chance they will pick up on your anxiety and take advantage of it.
And this is definitely the last thing you want when taking a big dog out for a walk.
The best advice for considering the first-time dog is to do research.
Learn as much about the breed as you can, and decide whether its needs will fit in with your lifestyle.
Speak to volunteers at a local shelter; see if there are any dogs you can interact with, and you never know, you might even decide to adopt one.
How much do Shar Peis cost?
 The actual price you pay for a Shar Pei puppy will depend on a range of factors, including your location, the pedigree of the dog, the breeder, and much more.
If you buy a purebred dog, you can expect to pay significantly more, as you're mostly paying for the dog's genetic history.
As a standard rule though, if you're looking to buy a Shar Pei puppy in the USA, you can expect to pay a minimum of $1,000 but could be looking closer to $2,000 for a purebred dog from a good family.
Because they're a very rare breed, your options are going to be reasonably limited, but make sure you search around before committing to one breeder.
If you're that serious about getting a Shar Pei, you'll likely travel for the privilege.
Do Shar Peis have health problems?
Shar Pei's do have a range of hereditary health conditions, and any breeder that respects their position will provide you with a health certificate if you're looking to buy one of their puppies.
While this won't rule out the possibility of any health conditions, it will at least help you get an idea of what you're committing to.
The most common health issues found in the Shar-Pei breed include:
Hip and elbow dysplasia
Glaucoma and retinal dysplasia
Hypothyroidism
Allergies
Skin infections (particularly in their wrinkles)
There is also a condition known as Shar-Pei fever, which is reasonably self-explanatory.
The dog develops a high fever that's accompanied by vomiting, tiredness, and trouble breathing.
Treatment for this can be expensive and can prove fatal if not dealt with quickly.
Shar Pei's are also prone to obesity, but this is easily managed through diet and exercise.
Breeders will have to publish any health results in a public domain, but it's always worth taking a new puppy to the vets to spot any health conditions before they become a problem.
This will help you to manage them, and will hopefully save you money in the long term.
Click Me: 👇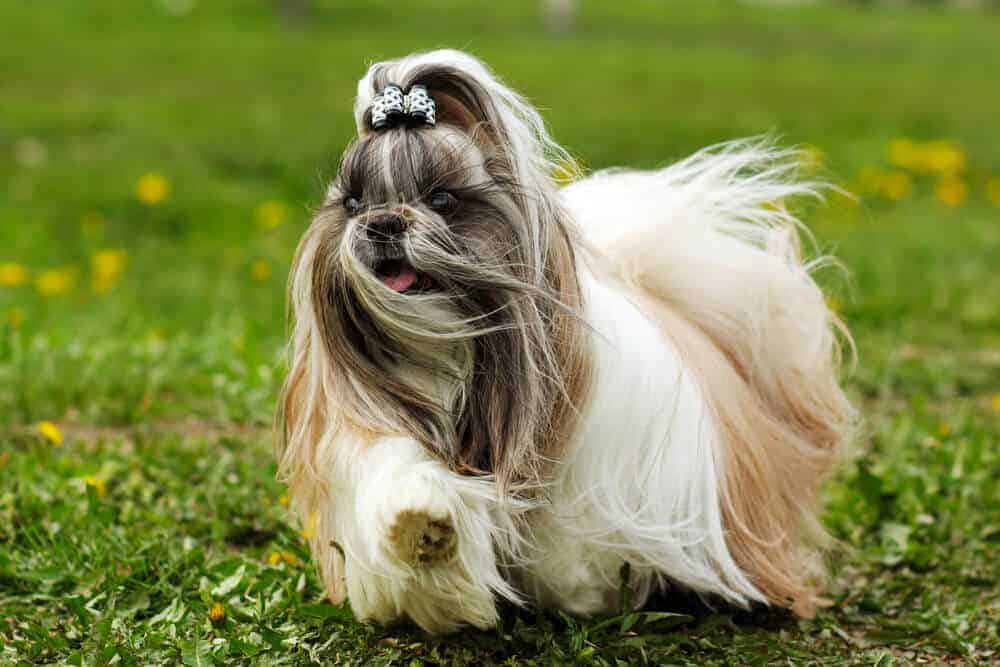 14. Tugou
Tugou doesn't refer to one specific breed of dog, but simply means "native dog."
For this reason, the term is used to collectively refer to a number of breeds, some of which have already been included on this Chinese dog breeds list.
One such example is the Chongqing Dog, and all others included under this umbrella term roughly follow the same size and appearance guidelines.
Typically, the breeds included under the term Tugou are around 20" tall, and all have a similar physical appearance.
While there might be variations in things such as face shape, color, and tail, they are all a very "standard" dog shape, characterized by a slimmer build, long legs, and a short coat.
Many of the Tugou breeds evolved from wolves and were domesticated during the Han Dynasty for a range of working purposes.
These included hunting, fighting, guarding, and less frequently, for companionship.
For this reason, many of the breeds are known to be loyal yet wary and don't fare too well around strangers.
Also, few of the breeds considered Tugou aren't well known outside of China.
This is because, unlike more popular Chinese dog breeds, there are native equivalents of a similar physical build and purpose in other countries.
Unlike a breed such as a pug, which is unique in appearance, Tugou breeds have Western equivalents, such as Retrievers and similar dogs.
15. Xiasi Dog
The Xiasi Dog is one of the breeds considered Tugou and originates from the Guizhou Province in China.
It's named after the town in which it was originally bred, and is still considered the center of the breed, both in China and the rest of the world.
There is evidence that suggests the breed was created in the 11th century and was used for hunting small animals.
Due to this purpose, the breed is very intelligent and agile.
However, at the same time, the breed is very friendly towards humans and is very protective of its owners.
It was also used as a guard dog throughout China, and so is wary of strangers, particularly when its owner isn't around.
The breed's intelligence makes it very easy to train, and like many other hunting dogs, it shows a willingness to learn.
While this is useful for domestic owners, it also, unfortunately, means that they're still commonly used as fighting dogs in China, and are often pitted against boars.
The dogs are judged on a range of things in these fights, and they, unfortunately, prove to be still quite popular.
Xiasi Dog Video
Xiasi Dogs stand between 17 and 20" tall and usually weigh between 22 and 66lbs.
They have a medium-length coat that is usually wiry in appearance and sheds surprisingly little.
Their coat doesn't require too much maintenance and can be brushed weekly to avoid any bigger issues.
However, they would inevitably appreciate an occasional visit to the groomer.
They have significantly fewer health problems than some breeds on this list, which makes them a desirable companion dog.
However, they're not particularly well known outside of China, and current estimates state that there are very few purebred Xiasi Dogs left in the world.
Conclusion:
Many popular Chinese dog breeds are increasing in popularity in the rest of the world, excluding obvious choices like pugs.
However, the rarity of many breeds is still reflected in their price, especially if you're looking to buy from a reputable breeder.
Here is a summary of these breeds in terms of their sizes:
Chinese dog breeds LARGE: (59 to 98 lbs)
Chinese dog breeds SMALL: (2 to 23 lbs)
One of the most important things to bear in mind is that many of these Chinese dog breeds require attention, and might not be suitable for first-time owners.
The best place to start is by researching your desired breed to see how it fits in with your lifestyle, as many of these breeds do still make excellent pets.
References:
Website Title: Wikipedia
Article TitleCategory: Dog breeds originating in China
Date Published: October 27, 2018